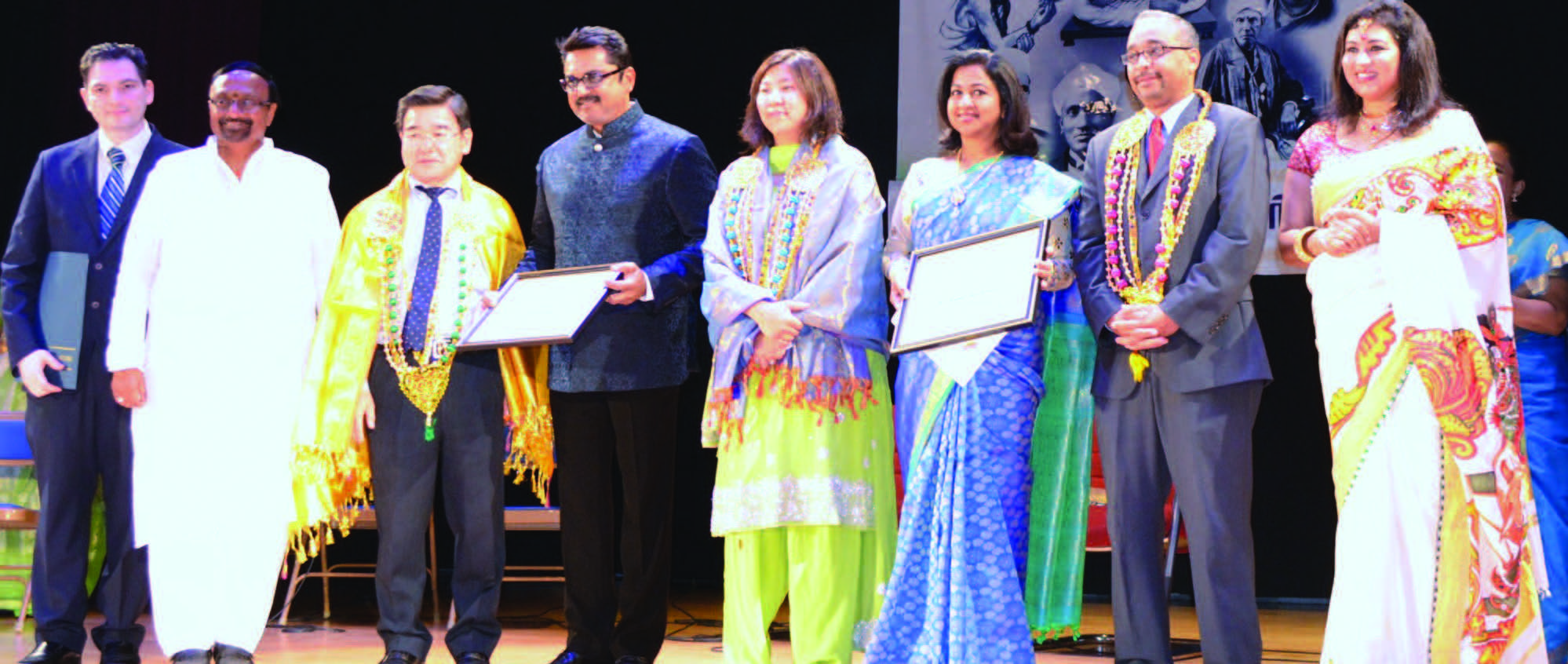 NEW YORK (TIP): Attendance by top-ranking elected officials, entertainment by two prominent Tamil movie stars, honoring four Tamil-Americans who had excelled in their chosen field, game show for couples by actress and popular TV host Jaishree and dancers performing for popular Tamil movies marked the inauguration of America Tamil Sangam in New York on Aug 23. Supreme Star R. Sarath Kumar, a popular Tamil hero, president of South Indian Artists Association, member of Tamil Nadu Legislative Assembly and his actress wife Radikaa Sarath Kumar, a very popular TV personality dubbed as Queen of Indian television who were the parade marshals of the India Day Parade held by the Federation of Indian Associations (Tri-State) earlier in the week, enthralled the packed audience at the Hindu Community Center auditorium in Flushing.

Radikaa cutting her birthday cake on stage while her husband and actor Sarath Kumar, their son Rahul Sarath Kumar and President of America Tamil Sangam Prakash M Swamy cheer.

The two took part as super couple in the game show specially designed for couples and telecast in Sun TV by actress and TV host Jaishree and gave valuable tips on family values, happiness in marriage laced with humor. They also addressed the gathering and took question and answers from the audience in the four-hour program. Four prominent Tamils in the US who had reached the zenith in their chosen field were bestowed with Tamil Ratna Awards. The awardees are Bharathanatyam exponent Padma Bhushan Kamala Lakshman who strode the film industry and dance stage like a colossus for fifty years; Dr Valavanur A Subramanian, world-renowned cardio-thoracic surgeon; Abel Laureate Prof Srinivasa Varadhan, distinguished professor of mathematics atNew York University and Dr. Prasad Srinivasan, Member of Connecticut General Assembly – the first Tamilan to become Assemblyman in any US Legislature. V. Perumal, Head of Chancery of Consulate General of India, released the first copy of the America Tamil Sangam souvenir brought out on the occasion and delivered the presidential address.

Radikaa presenting Tamil Ratna Award to eminent Bharathanatyam exponent Kamala Lakshman while Sarath Kumar and Prakash Swamy cheer

In his remarks, he recalled the contribution of Tamils in the development of India and the United States in various fields such as medicine, media, legal and politics. Congresswoman Grace Meng, New York City Comptroller and Mayoral candidate John Liu, New York State Senator Jose Peralta and Member of New York City Council Peter Koo wished the newly-formed America Tamil Sangam a great success and said urged them to improve voter registration and take active involvement in governance. Jose Peralta presented a proclamation from New York State Senate and Council Member Peter Koo presented the New York City Proclamation to the couple to commemorate their visit to the US and praising their contribution to Indian cinema. Dr. Sudhir Parikh, Padmashree awardee and philanthropist and Anil Bansal, Executive Chairman and Founder of Indus-American Bank were honored by Sarath Kumar for their community service. Students of Bina Menon, founder of Kalashri School of Arts in New Jersey and Jerumila Prema Dhayalan, founder of Prema Kalalayam presented dance from the movies of Sarath Kumar that made the audience tip-toe to the fast numbers.

The Tamil Ratna awardees – Prof Srinivasa Varadhan, Kamala Lakshman, Sarath Kumar, Radikaa, John Liu, Dr. Valavanur Subramanian, Dr Prasad Srinivasan and Prakash Swamy.

The dance gurus were honored by Radikaa Sarath Kumar. The event also witnessed the belated birthday celebrations of Radikaa Sarath Kumar with the actress cutting the cake of Cake Designer Parul Patel in the form of a huge film reel to the loud cheers of the audience. Representatives of other South Indian regional organizations such as Dr. B. R. Surendra, President of Kannda Koota, Mrs Krishnasri Gandham, President of Telugu Literary and Cultural Association (TLCA) and Malayalam organizations were felicitated on the occasion and promised to work in tandem with the new organization. R. Ramaswamy, assistant general manager of Bank of Baroda, KK Mehta, CPA and Kannan Arumugham, MD of Anjappar Chettinad Hotels were recognized for their service to Tamil community. Prakash M Swamy, President of America Tamil Sangam, said the new organization will promote Tamil language, literature and culture among third-generation Tamil-Americans and be a voice of the community. Chapters are being launched all across the US. Plans are afoot to conduct New York International South Indian Film Festival in New York in April 2014 and stars like Rajinikanth, Mamotty, Chiranjeevi, Prabhu Deva and AR Rahman were invited to attend. Calai Chandra, vice president of the Sangam proposed a vote of thanks.